This web site exists to help compare cat trees for potential buyers. If you are going to spend a lot of money on a cat tree you may as well compare a few models to see what the differences are between them.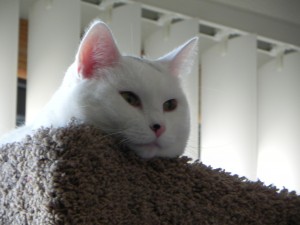 Another good source of opinions is people that have bought these various cat trees and we've dug up viewpoints from many different people and assembled them all into one place. We try to find the most common comments about cat trees and let you decide from there.
If you have a cat, you know how much they like to climb and sleep on your furniture. If you have to battle with cats climbing on stuff that you don't want them too, why not get them something of their own to climb on?
Putting a cat tree in front of a window, for example, is a great way to create an environment that is fun and intriguing for a cat. This gives them something that they can play and sleep on, and think of as their own.
Read through our cat tree reviews to see what might be a good option for you in terms of features, quality and price. Also check out our cat tree comparison chart for side-by-side comparisons. We picked only the cat trees that we feel comfortable recommending, as they all have happy buyers, but you will need to decide between them to find which is the best for you and your cats.