The Molly and Friends Feline Recliner serves as an excellent resting place for cats big and small. More than just providing a wonderful sleeping area, this sturdy cat furniture is also a great playing spot for your beloved pets. Everything is made of durable materials. It's also carpeted for added comfort.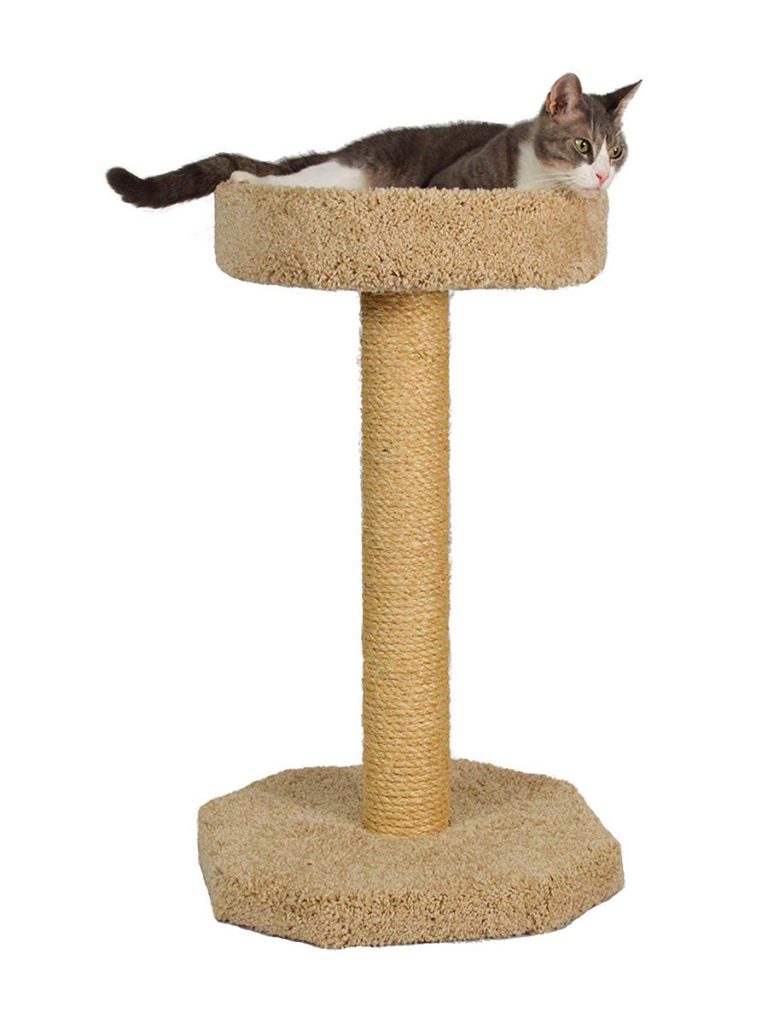 The Feline Recliner also comes with a thick all-natural sisal rope for your cat's scratching pleasure. This product is handmade in the USA – and the best part? It arrives at your doorstep fully assembled! Plus, this cat tree has a nice beige color that will surely blend seamlessly with your interior décor.
Molly and Friends Feline Recliner Features
Handmade construction
One-tier
Beige color
Comes with a large bed
Made of durable materials
High-quality carpet
Includes all-natural thick sisal rope
The Reviews
So far, this product has garnered 31 customer reviews on Amazon.com. Results are generally positive. Customers highly recommend the product for its durability and stable design.
There were 2 users who gave a rating below 4 stars. One user was simply a bit unhappy that their pets didn't seem to enjoy the scratching post at all and went back to scratching furniture around their home. The other user however, raised a more important issue:
Flimsy packaging – It seems most Molly and Friends products arrive in just a taped-up box and nothing else to protect it from bumps and falls. As a result, this customer received the product slightly broken.
When it came to positive reviews, happy customers had the following things to say:
Very durable – Customers are happy with the very solid build of the Feline Recliner. They feel confident that no matter how rough their cats play with this furniture, their investment won't break or fall apart.
Highly stable construction – Reviewers were also impressed with the stable design of the Feline Recliner. No matter how much leaping and climbing takes place, the furniture never wobbles or tips over. They love the security of knowing that it won't be a source of danger for their pets.
Generously-sized bed – Users were also delighted with the large bed on this furniture. Even large cats have enough space to fully stretch out and enjoy a blissful sleep.
As with most Molly and Friends products, this item seems well-loved by customers. Except for the less-than-adequate packaging that it arrives in, reviewers have nothing but praise for this Feline Recliner. Not only does it make cats happy, but according to reviewers, it has significantly improved their pets' behavior too. Most of them have stopped scratching furniture around the home and have instead devoted their claws to the thick sisal rope wrapped around the scratching post.
If you are tired of kicking your cat off the foot of your bed in the middle of the night, this Feline Recliner might be an attractive alternative for them. Overall, this product is obviously a great buy.