When I think of the kind of stuff that my cats like to sleep on or play on, I picture a few things. Platforms, boxes, pillows and blankets mostly. And they also like anything that is vertical, of course. This cat tree by Armarkat seems to have all of these elements, and in a very unique design. That is why it is a top rated cat tree condo with lot's of happy owners. This is probably one of the coolest that we have on this site. Let's take a quick look at the details.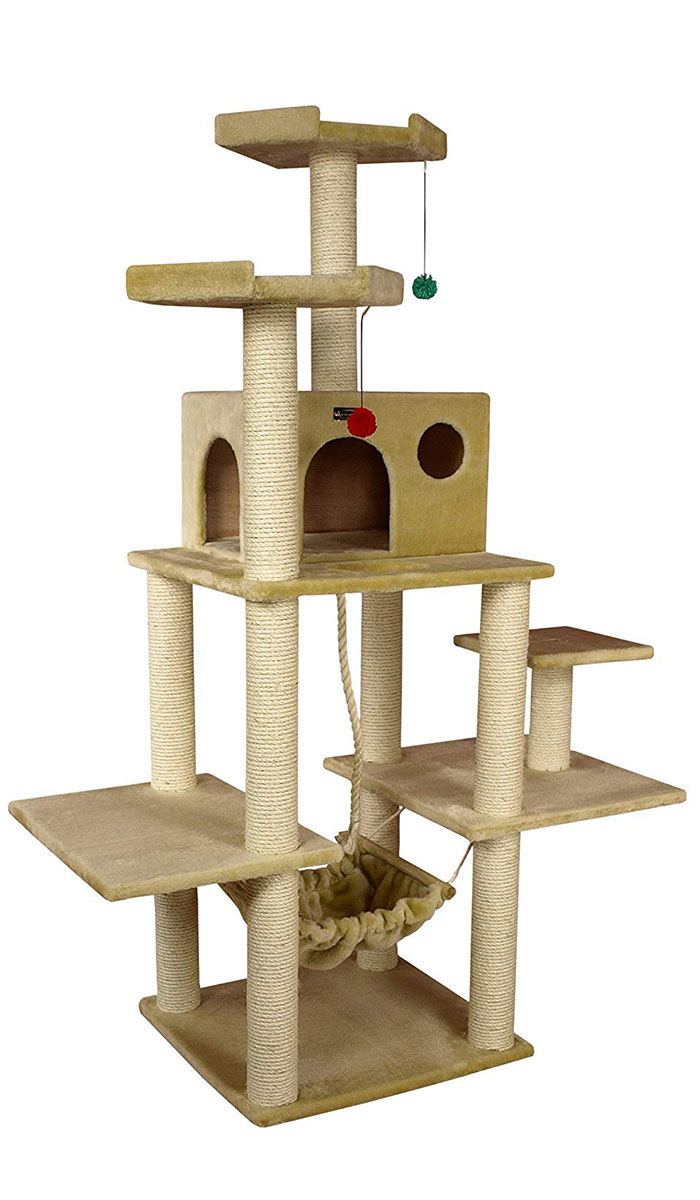 The structure itself is made out of pressed wood, so you can be sure it is sturdy. It is covered in a very soft beige faux fur, which is pretty easy to clean and vacuum, and it doesn't seem to shed like some of the carpet covered models.
There are several platforms, with two of them extending from the bottom sides, plus two platforms way up high at the top. If you have multiple cats, this variety will be very appealing for all of them. In addition to the platforms, there is a house box with doors and window, which cats love to sleep in. And we can't forget to mention the hammock, which is something you don't see on hardly any cat trees. This looks unassuming at the bottom of the structure, but cats love to curl up and sleep in there.
Armarkat 72″ Cat Tree Features and Specs
Cats can climb, sleep, scratch, exercise, play and more
Made out of pressed wood and faux fur
Takes less than an hour to assemble
Comes with everything, including manual, parts and tools for assembly
72 Inches tall
A 53 inch by 22 inch footprint (considering the platforms that stick out to the sides, see picture)
62 pounds of sturdy weight
The Reviews
This is a top rated cat tree on Amazon with many happy owners. There is not one bad review, all reviews are 5 star with maybe a couple 4 star reviews.
The combination of features on the structure, sturdiness, size and cost all make it a great value, and that is what people who buy this cat tree will tell you.
Out of the box, many people are able to assemble this cat tree in less than a half hour. And they also say that their cats love playing on the parts and in the box during assembly, which shouldn't be much of a surprise!
How about once it's set up? People are surprised at the size considering how much they paid. It's also a good sized structure for larger cats. People with big cats say that they have no problem getting around the structure and that they fit easily in the house part of the cat tree.
Also, many buyers find that their cats stop scratching on their furniture once they set up one of these cat trees. Cats love scratching on the sisal-wrapped posts, it must feel better to scratch on than most furniture since the cats go for it easily. So if cats scratching furniture is a problem for you, a cat tree like this that contains many scratching posts within might be the answer to your problems.
Purchasers that are leery about the faux fur covering find that it's actually a pretty nice covering for cat condos. They say it's very soft, and their cats love it. Buyer also report that it's easier to clean and vacuum than carpet in many cases, and that it doesn't tend to shed like carpet covering on some cat trees.
People generally aren't too impressed with the cheap dangling cat toys, but that's not too big of a deal breaker since all cat condos come with cheap dangling toys that break off easily. It's best to not attach the included toys at all. Simply add your own toys that you know your cats will like and that you feel will be safe for your cats.