If you are looking for one of the tallest, most sturdy cat trees out there, you should take a closer look at the Molly and Friends Sequoia cat tree. This one is 86 inches tall – just over 7 feet! It's very similar to the Alleyway that we also review. Sequoia is an appropriate name, considering it's height. Your cats will love to crawl to the top and survey their domain from a tall platform.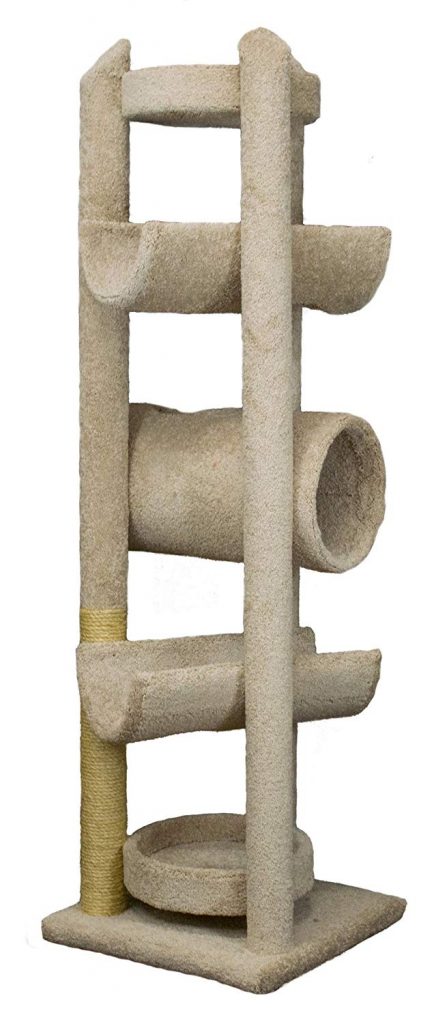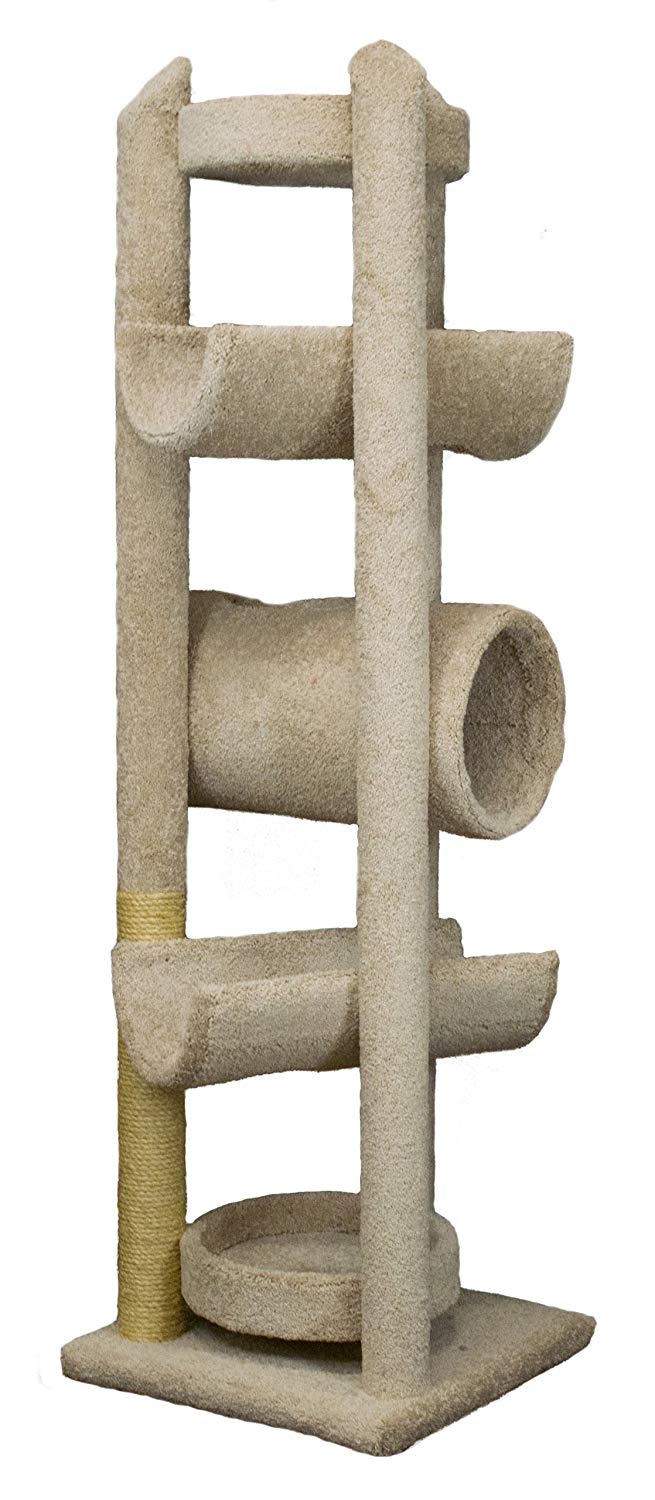 Really Tall
This cat tree is one of the taller that we review. Height is great for cats – they love to climb, I'm sure you've noticed. My cat likes to go as high as possible, even up on top of the cupboards, to survey the rest of the pad, so she likes the tall cat trees like this – and so will most other cats.
There are five platforms from the bottom to top – two round beds, two big cradles and a round tube. All of the platforms have holes to allow the cats to easily sneak all the way to the top without much effort. Even older cats that have a harder time getting up tricky climbing situations shouldn't have any problem climbing this one with the way it's designed.
The Scratching Post
A cat tree isn't usually complete without something for the cats to scratch on, and this cat tree includes a nice sisal rope scratching post. The scratching post is pretty tall, which is nice for cats that like to use them to stretch out while they dig in their claws.
It's Sturdy
Some of the cheaper tall cat trees can get a little wobbly if not constructed properly, but that's not going to be an issue with this one. With a 24 by 24 inch base, and three straight pine poles, this is a really sturdy cat tree. The sturdiness is enhanced by heavy duty hardware and the fact that this is fully assembled from the factory, leaving no room for assembly error.
Big cats won't be able to knock it over if they get a little crazy when they are in chase mode or playing rough. Even if your cats try to scale up the poles or the outside edges, this cat tree won't tip for any reason.
It's Heavy
Due to being big, tall and sturdy, this cat tree has some good weight to it. It weights in a 130 lbs, which is pretty heavy when compared to pretty much any other cat tree out there. The weight is a good thing though. You should only view the weight as a negative if you will have to move this around your house by yourself.
A bigger person can probably strong-arm it around easily enough. Or if you use a dolly you can move it around if you pay attention to the balance and don't tip it. However, you might want to consider that it will probably take two people to effectively move this into place or move it around anywhere, really.
Fully Assembled on Delivery
This cat tree – as big as it is – comes fully assembled. That is one big difference between Molly and Friends cat trees and most of the other cat trees we take a look at – all of the Molly and Friends cat trees are fully assembled straight from the factory.
This is a nice benefit for a few good reasons. First of all, you won't have to go through assembly process. The assembly on these cat trees is really solid and well done, so it makes them a little more sturdy than some of the cat trees that do require you to put them together. The only negative here could possibly be the size. Make sure you can fit this thing through your doorways or stairways if you live anyplace with a tight fit.
High Quality Carpet
The carpeting on this cat tree is pretty nice. It's thick and holds up well to abuse from cats. If you happen to have a cat that likes to scratch on the same carpet spots over and over again, you might notice it to wear out a little more quickly than normal, so try to get your cats using the scratching post if you are worried about wear. But even with heavy use, this carpet will hold up as good as any out there.
Positives
Sturdy and well built
Very tall
Comes fully assembled
Negatives
Can be overly heavy and hard to move around
Holes in platforms take away from sleeping space
Carpet can wear if cats scratch it a lot
The Verdict
If you want a high quality cat tree that gives your cats something very tall and sturdy to play on and relax on, it's hard to go wrong with the Molly and Friends Sequoia. Your cats will love to climb up to the top and look down at you, much like cats will do. Even the biggest of cats should find this cat tree to be big and comfortable.
The only negatives might be that it's overly big if you are going to be handling it by yourself, and it can be a little expensive compared to some of the other comparable-sized cat trees out there. But considering the quality, the price is well worth it.