The GoPetClub Cat Tree, which is a massive 50 x 26 inches at the base and measures 72 inches high, is full of great features that your cats will most assuredly enjoy. The sturdy wood pieces are held together with fasteners, as opposed to glue. This means that if they start to loosen or get wobbly a simple tightening should fix the problem.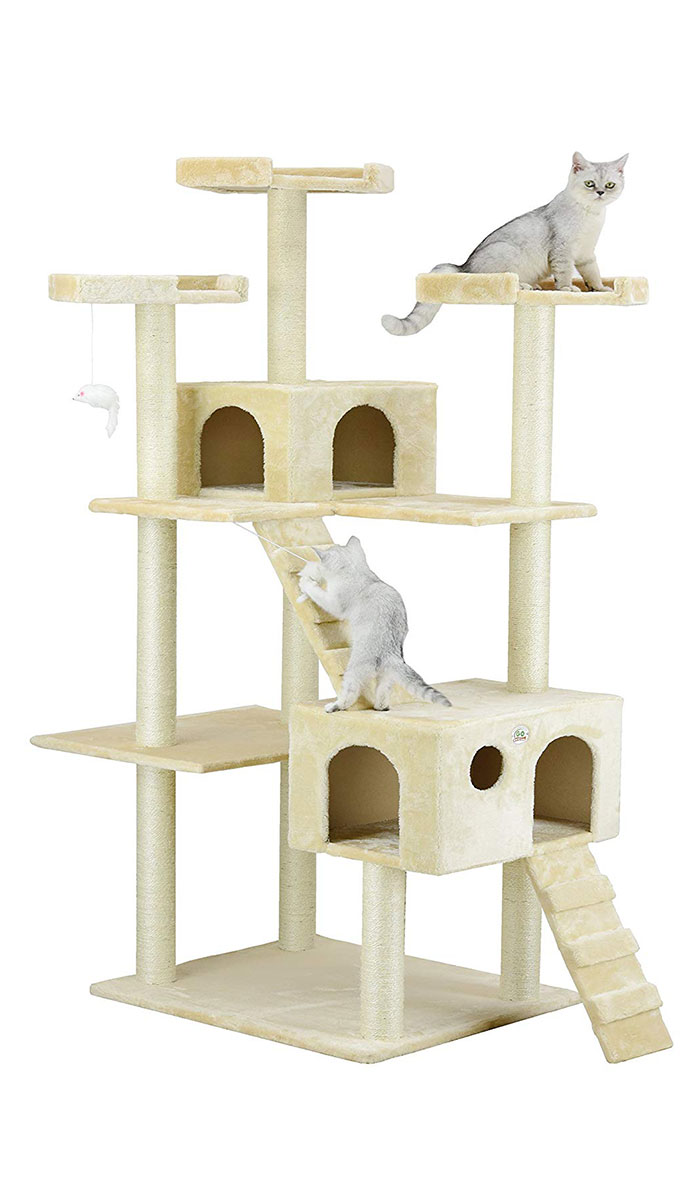 The cat tree also has three tower-style perches, as well as two kitty-condos and multiple hanging toy mice for your feline's playing pleasure. A gangway will allow your kitty to climb the tree easily, and all perches and horizontal surfaces are covered in a plush style faux fur that is extremely soft and comfortable. The towers are wrapped in sisal rope so that your pets have a durable scratching area, and the wood pieces used in this tree allow for easy customization of your pet tree.
Features
Quick assembly
Faux fur coverings for comfort and style
Five areas for your pets to play and lay on
Sisal rope towers for excellent scratching surfaces
Hanging mice for your cats to play with
What Customers Are Saying
"He has plenty of room to jump, spin and hang from every level of the tree. Really glad I bought it!" – Laurie
"Hands down the most "pettable" tower I have ever felt and the cat hair comes right off." – C. Kellogg
The GoPetClub Cat Tree has been reviewed and rated more than 500 times online, and it averages a near five-star rating on a five-star scale! Out of all of these reviews, the feature most commonly talked about by people that have purchased and rated this product is the durability. Many reviewers spoke of multiple cats, some larger than 15 pounds, playing, running, and jumping all over the cat tree and years later it still looked and worked as well as it did the day that they put it together.
The few purchasers that gave this product a low rating all seemed to have the same common complaint. They complained that the cat tree had a strong glue odor when they took it out of the box. The glue is used to adhere the rope and fabric to the posts and platforms, and all cat trees use glue in some aspect of their construction. The glues used in cat trees are a non-toxic adhesive, and the strong adhesive odor will dissipate soon after the cat tree is taken out of the box and assembled.
Pros:
Extremely large, yet light and easy to move
Very easy to assemble
Lots of sisal rope covered poles that cats love to scratch
Less expensive than competitor's cat trees
Stairs provide easy access to levels in the tree
Multiple levels in the cat tree so that cats can jump if they choose
Glue-free assembly, nuts and bolts hold your cat tree together
Cons:
Very tall, at six feet high, this cat tree is taller than most people
Strong adhesive odor when pulled from the box
GoPetClub seems to no longer provide parts support for this product
Recommendation
The GoPetClub cat tree is a wonderful cat tree that will provide your kitty with hours of entertainment, as well as a comfortable place for your pet to sleep. Its multiple levels, sisal rope towers, and attached mouse toys keep your pet active and busy.
This cat tree is perfect for both single and multiple-cat homes, and will withstand the abuse that larger, active cats can administer.