The Refined Feline Cat Cloud shelving unit is the perfect way to provide your cats with a perch that they will enjoy jumping to and laying on, all without taking up any floor space. The shelves feature a sturdy one-piece metal design that easily mounts to your wall. They are topped with a padded faux sheepskin cushion that utilizes magnets to keep them attached to your cat cloud.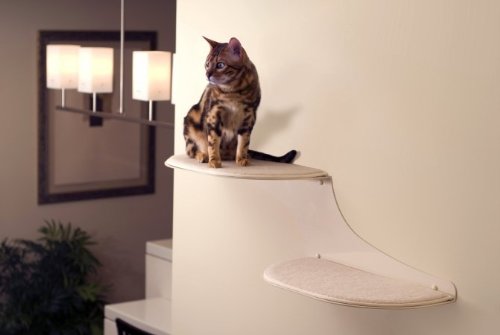 Their simple and elegant design, solid metal construction, and soft cushions will give your cat the perch it needs without dominating your living room.
Features
Easily installed
Solid one-piece metal design
Soft faux sheepskin cushions
Off-white color matches most walls and homes
Easily painted to match your decorative needs
What Customers Are Saying
"My cats love this!!! It looks really nice too" – Marla D.
"I would highly recommend these to any cat owner" – C. Kellogg
The Refined Feline Cat Cloud has received excellent reviews and ratings online. Averaging four and a half stars in a five-star online rating system, it has never been rated at lower than three stars. The people that purchased and reviewed this product all loved its simple installation as well as its durability. The metal design is strong enough that even the heaviest of house cats are able to jump to it without fear of damaging the shelf. The strong magnets keep the cushions attached, so there is no need to worry that kitty and pad will slide off. In addition, these magnetic pads are easily removed so that should one tear or become stained, they may easily be replaced with a new one.
Some consumers felt that the lack of standard color options was a bit of a turn-off, but the Cat Cloud is easily painted to match your home's décor. In fact, multiple reviews stated that they painted their Cat Cloud various colors so that it would flow seamlessly into the design of their home.
The most common complaint made from the users of this product was about the shelf's weight. Given its one-piece metal design, this product is a little on the heavy side. A few people had a difficult time installing the product because if its weight. The solution most of these people had was to have a friend come and help them. Once the shelf was up, there were no complaints.
Pros:
Off-white color is easy to match
Quick and easy installation
One-piece design is extremely durable
Magnetic cushions make replacing them easy
Shelves are off-set, providing steps for your cat to jump to
Cushions are soft and comfy for your kitty
Easily painted to match whatever color scheme you wish
Cons:
Product is more expensive than larger "cat trees"
Lack of standard color options
Much heavier than reviewers anticipated
Recommendation
The Refined Feline Cat Cloud is a great two-shelf cat perch that is easily mounted on any wall. Its simple design and installation, as well as easily replaceable cushions, makes it perfect for your pet. You can mount it at any height, or purchase multiple cat clouds to create stairs going up your wall! Despite it being a little on the pricey side, this is a must-have for the cat lovers out there!