If you are looking for a tall, heavy and sturdy cat tree – this one is worth your attention. The Molly and Friends Alleyway cat tree is an excellent option for people with multiple, big cats. The poles are sturdy, the carpet is thick, and you don't even need to assemble this cat tree. This is pretty similar to the Sequoia, which we also review. Let's take a closer look at the positives and negatives of this one.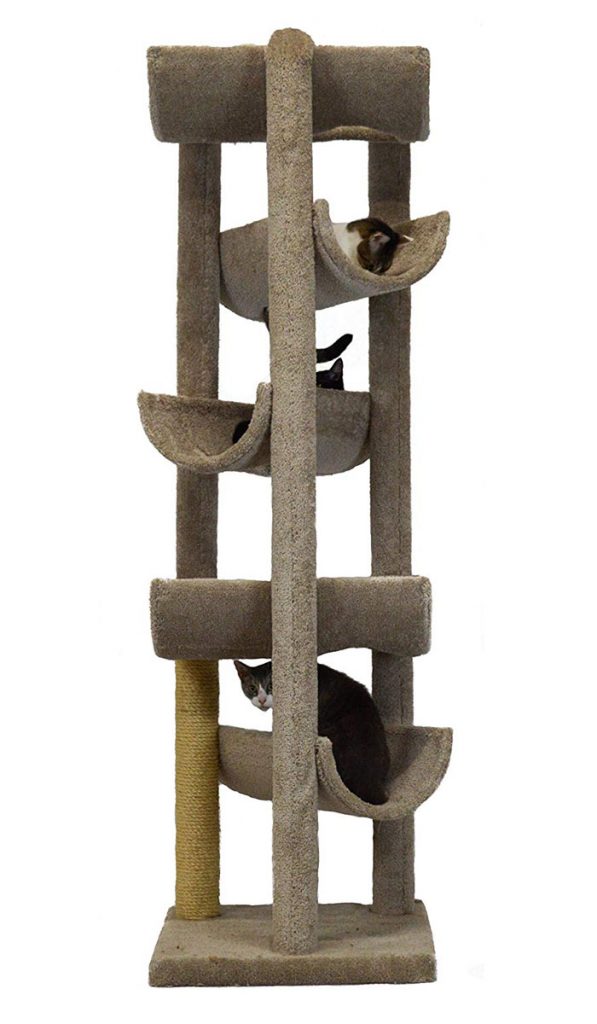 Very Tall
This cat tree is 86 inches tall – that's a little over 7 feet tall. I'm about 6 foot 3 inches tall, and I'd be looking up to see my cat at the top of this thing. She'd probably like that since she's always up on top of the cupboards looking down at me.
If you have cats that like heights, this cat tree is great since there are five cradle platforms from the bottom to the top, and this cat tree is designed in a way that it's easy for all cats to get to the top cradle.
Sturdy
Even though it's tall, this cat tree is also sturdy to match. This is important, since heavier cats can get a taller cat tree rocking easily if it's not built with a sturdy design. The base is 24 x 24 inches (2×2 feet), and the poles are single pieces, so you don't have to worry about anything coming loose or getting loose in the joints over time.
This cat tree comes fully assembled, and that contributes to it's sturdiness, as it can be quality-assured to be rock-solid before it even leaves the factory. You won't have to worry about tightening up everything yourself. These cat trees from Molly and Friends are built to extremely sturdy standards.
If you have big, heavy cats, you should really consider a cat tree like this. You will not have to worry about them knocking this thing over.
Heavy
This cat tree is really heavy at about 130 pounds. You might need help moving it around depending on how much of a muscle bound beast that you are.
Sisal Rope Scratching Post
One of the poles has a sisal rope scratching post, a little over 2 feet tall. It's height is great for cats that like to stretch when they scratch. The rope holds up well to repeated scratching from multiple cats.
No Assembly
We've already mentioned it a couple times, but it's a pretty big deal. The cat trees from Molly and Friends, no matter how big they can be, never require any assembly. They come shipped to you in a big box, you just remove the box and put into place.
This is really nice compared to some other cat trees that require assembly, especially the big ones. A six foot tall cat tree that requires assembly can take a little work. Plus, there's no chance of assembling it wrong or not tightening everything enough when it's already done for you.
Thick Carpet
Molly and Friends used a nice, thick carpet on their cat trees, which is nice compared to some of the cheaper cat trees with stuff like faux fur. Many people prefer the thick carpet on these cat trees since it holds up well to abuse from cats fairly well, and cleans easily as well. Of course, if your cats like to scratch the carpet a lot, it will wear out faster, so keep that in mind.
Positives
Sturdy and well made
Good for big cats
No assembly required
Negatives
Carpet can wear out if cats scratch it
Can be tough for one person to move
Expensive
The Verdict
The Molly and Friends Alleyway cat tree is one of the tallest, heaviest and most expensive cat trees you can find. But it's also worth it if you have big cats and want the best. We can recommend this for any cat owner.
Consider that it really is huge. If you are a small person and might struggle moving this around yourself, and don't have much for help at home, you might want to get something a little smaller.