The Molly and Friends "Layabout" Premium Handmade 3-Tier Cat Tree comes with large beds and rest areas for cats of all sizes. You pets can jump and play all they want on this tree without having to worry that their new home might break or tip over. This handmade cat furniture is made of only the most durable materials.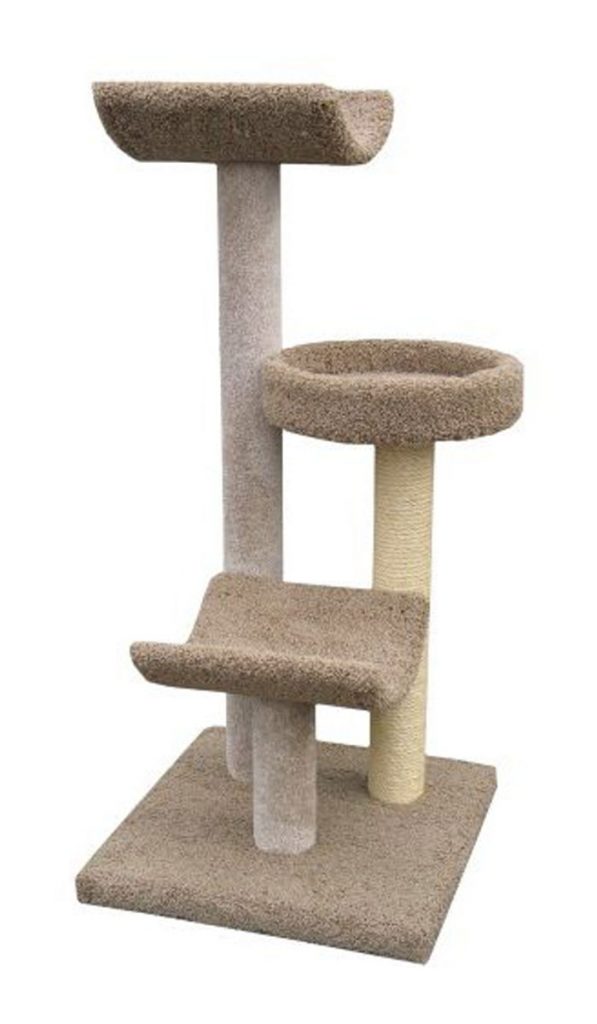 This cat tree is as comfortable as much as it looks good. It has high quality carpet everywhere and it comes with a 30-inch all natural sisal rope that your cats can scratch with gusto. Another great thing about this product is that it arrives at your doorstep fully assembled. You cats will be playing with their new toy in no time!
Molly and Friends "Layabout" Premium Handmade 3-Tier Cat Tree Features
Handmade construction
Two cradles and one bed
Comes with a 30-inch all natural thick sisal rope
Beige color
Large beds and rest areas
Durable and stable design
Includes high quality carpet
The Reviews
There are only 15 customer reviews to date for this product on Amazon.com. Users are most impressed with its sturdy construction and stable design.
5 users gave this product a rating below 4 stars for the following reasons:
Poor packaging – Even in positive reviews, customers expressed concern over the packaging that this item arrives in. According to reviewers, the cat tree comes in a rather flimsy box and there is nothing else that could serve as a protective material. While most users managed to receive their product in good shape, there were an unfortunate few who received their cat tree with a few broken parts.
Carpeting too thin – A few users were not very impressed with the carpeting on this product. Users who especially had cats that liked to scratch a lot mentioned that the carpeting was too thin and not really made of high quality material. However, this was not exactly a deal-breaker for them.
Most reviews were positive. Here are a few qualities of the product most appreciated by Amazon customers:
Highly durable – From it looks alone, customers are convinced that this cat tree can withstand all the scratching, running, and rough playing that cats usually love to do. It is heavy, well-built, and made of very solid materials.
Generously-sized resting areas – Users, especially those with large cats, were pleased to find that the beds and resting areas had more than enough space where their pets could stretch and really enjoy a good nap.
Stable design – No matter how many times your cats jump around and get rowdy in this cat tree, it has a very stable base. It won't tip over or cause any untoward incidents. It's highly safe for even the most playful cats.
While some customers have complaints about the flimsy packaging and the quality of the carpet, this cat tree's impressive durability and stability more than makes up for those minor issues. Reviewers are generally happy with the product and would recommend it to every cat owner.