The Molly and Friends "Pinnacle" Extra-Large Premium Handmade Cat Tree is perfect for cats of all sizes. It has large beds and rest areas where your furry friends can sleep and play. Even if your cats get a little rough and rowdy, this cat tree can hold up well with its durable and solid construction.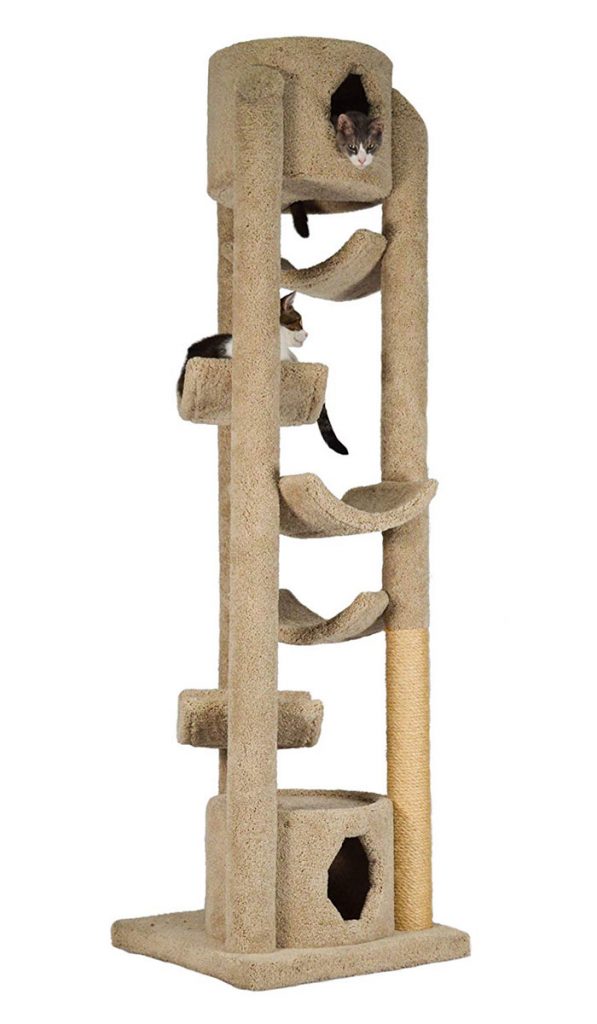 This beige-colored cat tree comes with a thick, all natural sisal rope. Your feline buddies will also enjoy the comfort of its high-quality carpet. This cat tree is handmade and designed to stand the test of time. It is ready to use out of the box—no assembly required!
Molly and Friends Pinnacle Extra Large Premium Handmade Cat Tree Features
Large beds and rest areas
Comes with a 30-inch all natural thick sisal rope
Handmade durable construction
No assembly required
2 condos and 4 cradles
Beige color
High quality carpet
The Reviews
To date, there are only 10 customer reviews for this product on Amazon.com. All reviews have been positive so far. Reviewers agree it is a high quality cat tree that gives their pets hours and hours of endless fun.
Users love the following things about the Molly and Friends Pinnacle Cat Tree:
Very durable construction – Customers are impressed with the Pinnacle cat tree's solid build. Your pets can scratch, jump at, and play rough on this cat tree all day long, but you won't ever have to worry about things falling off or breaking. It truly is built to be "cat-proof."
Highly stable design – Although this product is 7 feet and 2 inches tall, it is very stable. No matter how many times your furry friends jump and run around in this cat tree, it never wobbles or shows any sign of falling over. The peace of mind it offers is simply priceless.
Nice beige color – Reviewers of this model have found that the neutral beige color looks great inside their homes. It blends well with practically any interior décor.
Simply fun – Users always mention just how happy their cats are with this product. Even the owners themselves derive a lot of joy and pleasure from watching their pets enjoy their new home.
While this product doesn't have that many reviews yet, it's quite obvious that everyone loves the Molly and Friends Pinnacle Cat Tree. It truly looks and performs like the manufacturer describes it. Thanks to its handmade construction, every part is crafted to perfection. The entire structure is durable and stable. And the design itself is simply attractive and irresistible to cats. According to some reviewers, even their older cats that have started to become inactive were showing signs of playfulness again since having this cat tree inside their homes.
If you often stay indoors or if you find yourself always too busy to give your cats a workout, this cat tree will surely give your feline loved ones endless hours of playtime and healthy physical activity. Not only will it keep your cats happy, it will keep them in shape too!