Taking care of a pet gives you additional responsibility of spoiling them and their needs. It is just like adopting a child;  you will need to take care of them in the best possible way, as well as providing them everything that they need. Depending on what type of pet you have, you should know what accessories and items are available out of the market that can make them enjoy their daily lives.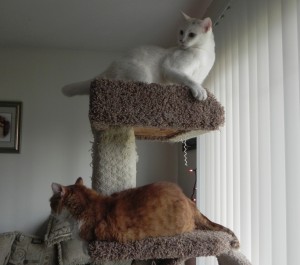 Just like with human, pets have emotions too. There are times that they become upset and you will notice it when they are acting slowly that is very unusual for you to see. This only means your pet lacks enjoyment under your supervision. Playing with them is not just the only way in making them happy. You should also try spoiling them with their necessities.
If you happen to have a pet cat, it is imperative that you understand how objects and items that are created specifically for them work. There are those that can be used as an alternative with their hobbies such as cat nip and scratching posts. If you do not want to see your furniture being destroyed by your pets, you should buy them one of these items. Shelter for your cat is also needed so that they can live normally just like other animals that have houses of their own. These are called cat tree furniture or cat condos.
In choosing the right cat condo, you should take some things in consideration. Here is the list:
Construction. The construction of the cat condominium should be of high quality, which gives it a stable impression in the first look. It is good if the cat condo has functional features to make them enjoyable for your cat. You should look over the spaces provided making sure that your cat can maneuver and move freely inside of it. The comfort of your pet is the main concern and that should be carefully inspected. Tubes and platforms should also be larger than your cat so you can make sure that they can move in any way they wanted. Another thing is the strong foundation and base of the cat condo. Inspect if the furniture can be easily damaged by just one hit.
Material. The material used in the cat furniture is also important. It should be a combination of safe materials not just for your cats but also for your own health. There are some materials that can cause harm if not treated very well. Watch for slivers and exposed staples. As for the scratching posts, it is recommended if you will buy one using sisal material rather than carpet. Sisal is tighter and firmer than carpet and cannot be easily worn and torn even for the longest time. The wood should also be of high quality. It should be of high grade wood not just a defective type. The base and construction is very important so that it cannot be easily destroyed by your cats playfulness.
Overall design. Of course, you always wanted the best for your pets. If you will buy something for them, the first thing you consider is the overall aesthetic value. It should come with a cute design, combining colors and shapes that can be really attractive in your cat's eye sight.