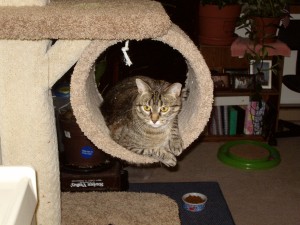 The first thing you may notice when you start to research cat trees is that there is a pretty wide range in quality. And of course the second thing that you probably notice is that there is a direct relation between quality and price.
There are quality cat trees to be had for less price, but there are also some pretty nice perks that come with spending a good chunk of money on premium quality cat trees as well.
Let's take a look at some of the differences and some of the things to keep and eye out for.
Instruction Manuals
Some cat trees don't require assembly and therefore don't have manuals. They are simply moved into your home and placed where you want them to sit.
Other cat trees do require assembly, and will some in boxes, needing to be unpacked and assembled. The quality of instructions can vary from brand to brand. Armarkat, for example, has really good instructions that are simple and clear.
Wood and Structure Frame
The best quality cat trees are assembled with single wooden poles and non-modular designs. This means that you don't need to assemble them. Molly and Friends, for example, uses solid pine poles in their cat trees.
Some cat trees are built with plywood or pressed wood. Either of these can also provide a very sturdy frame, but at a lesser cost than the solid wood frames. This is also typically seen in the modular cat trees that require assembly.
Carpeting and Covering
The most expensive cat trees are covered with thick carpeting, while more affordable models typically have a faux fur covering. Arguments could be made in favor of either, and cats don't really seem to mind the difference between the two either. Carpeting typically will be easier for cats to claw into, whereas faux fur covering might be softer in many cases. But it all depends on the type of carpeting we're talking about here too, and that can vary.
Faux fur is said to be easier to clean. Carpet is said to sometimes shed over time. Faux fur is said to be easier to vacuum. Carpeting is easier for cats to claw into. It's hard to say which might be best.
Faux fur is pretty much always going to be cheaper, though. And it is commonly found on the more affordable cat tree models.
Modular or Not
Modular design simply means that the cat tree breaks down into more parts. It can be said that if it requires assembly, it's modular. These types of cat trees have a reputation for not being very sturdy, but that is not necessarily true. It all comes down to how well is it assembled during assembly. If you buy a cat tree that requires assembly, be sure to tighten everything firmly during construction.
Made in the USA
Made in the USA cat trees typically are premium quality, but they are also the most expensive. Think of a cat tree that is being made in a wood shop as opposed to a factory.
However, this doesn't mean that cat trees that are not premium, handmade in the USA are bad. There are certainly good quality foreign-made cat trees available. They just tend to be designed to be more modular in construction and require assembly as well. More affordable materials may also be used in construction of some of the more cost-friendly models.
Sisal Rope
Scratching posts wrapped in sisal rope is a much better option that carpeted scratching posts. I've found that cats tend to prefer the sisal rope over the cloth on furniture that they would typically scratch. This can't exactly be said about posts that are covered in carpet, at least in my experience. All of the cat trees we cover on this site have scratching posts wrapped in sisal rope.